Radhasri – Rhonda Fogel has been teaching yoga since 1998 and is the founder of 'Hatha Yoga Shala' in Montreal. She was the director and co-owner of 'The Wandering Yogi Studio' in Vancouver, BC from 2000 – 2008.
A dedicated student of Hatha Yoga and Ayurveda since the age of 27, she has studied with many great teachers. Among them she found the most influential and has completed several teacher trainings with Donna Farhi, Ifat Erez and Ana Forrest. In 2002 she took mantra diksha initiation from Paramahansa Niranjanananda Saraswati in India and was given a new name.
Since April 2004, Radhasri has been studying solely under the guidance of Sundernath (Shandor Remete) and his wife Emma Balnaves of the Shadow School of Hatha Yoga and Nṛtta Sādhanā. She has been authorized to teach in the Shadow Yoga style since 2005.
As of 2010 she lives and teaches in Montreal, Quebec and is available for massage and personal consultations. In 2022 she will also start offering classes in Wentworth, Quebec.
Rhonda has her intermediate certification and has completed 4 levels of Thai massage courses with Lotus Palm in Montreal. She has also studied Tuina massage with Ethan Murchie and was the administrator of the clinic at The Montreal Gongfu Research Center from 2011 – 2018.
Rhonda is a registered massage therapist with AQTN (Alliance Québécoise des Thérapeutes Naturels).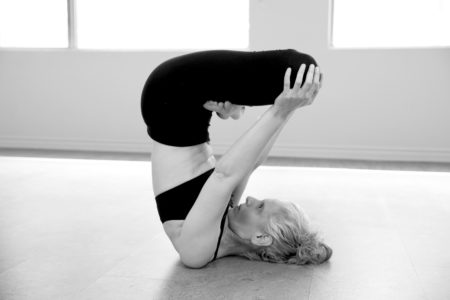 Student Reviews
"I have known Radhasri for fourteen years since she first began learning the art of teaching yoga. She has continued to strive in her learning, teaching, and is the most dedicated yoga practitioner I have ever known. Her classes are challenging, beautiful and on point. I had the opportunity to learn some of the basic Shadow Yoga principles while living in Vancouver with Radhasri. The practice is of utmost discipline and teaches us to "walk again". Invaluable teaching and a wonderful practice."

– Chantey Aldridge
"I studied with Radhasri in Vancouver for many years. I feel blessed to have had her as a teacher, she taught me the truth of yoga as a spiritual practice beyond the physical. She will always challenge you to grow and for that I am so grateful."

– Jodi Sigsworth
"Shadow Yoga is from my humble estimation the "Real Deal". Radhasri is an amazing teacher, dedicated to Yoga in a way few from the west ever come close."
"I feel extremely fortunate to have studied with Radhasri in Vancouver. Her high level of integrity and dedication are inspirational. The Shadow Yoga methodology is very well thought out and was integral for me in developing a personal practice."

– Sue Hartling
"I was only able to study with Radhasri for a short time before she left for Montreal, and I am still missing her presence. The practice of Shadow Yoga is unlike anything else available, and qualified teachers are rare. Montreal has gained something wonderful."

– Margaret Mahan
"Once i found Radhasri and her teachings and practice, there was no turning back. This woman has a clear, grounded, and consice teaching style that will allow for personal transformation and clarity in your purpose of practice. She is the real deal."

– R. Abbott
"Until she left for Montreal, Radhasri was my teacher in Vancouver for many years. She is wonderful at all levels. Her intensives are intense and possible for all levels and she allows time for questions and answers and discussion. I will be forever grateful."

– Jackie Stewart
"Shadow Yoga is very eye-opening as a truthful practice. I feel blessed to have come across Radhasri and her studio in Vancouver years ago and have always come back to her and her teachings. She is a teacher, not just a practitioner, because she is honest."

– t. bocolas
"Shadow Yoga is an adventure, and Radhasri is an excellent teacher and guide for this journey. I highly recommend taking a class with her to experience it for yourself!"

– Kathleen Moynahan
"it was serendipitous to stumble into the wandering yogi studio of vancouver. to find rahasri and grant teaching their ideals of yoga on grant and commercial drive. i really felt that i had found leaders in the reality of yoga…they did not disappoint me. in the seven years that i attended their studios in vancouver, they moved from a power yoga style to the

Shadowyoga.com

teachings of shandor remete.

at first it was a strange transition, what were they were doing in the shadow yoga was foreign to me. in time, i knew that rahasri and grant, the stoic teachers that they were, were the leaders in the path of yoga that help me repair myself. the shadow intent of strengthening the joints to bear the weight of movement in asana was profound. the connection to the feet and legs grounding the body, the undulation of the mid body and the extension from that base through the upper limbs.

having this information was truly life affirming…i had fallen off of a cliff in the grand canyon in 1992 and i think that the gymnastics of mainstream yoga was not going to serve me in the long term. the shadow yoga married with the profession of being a shiatsu therapist…allows me to practice shaping myself to able body for my future.

radhasri was very strict on the influences of nature on the yogi's practise. we were taught to know the phases of the moon, the cycles of the woman's cycle and the actions of both food and drink on the yogic training. it has affected every aspect of my daily living. i am extremely grateful for their intelligence and their dedication to the intricacies of the body in its actual abilities.

thank you radhasri for your insights and i follow your words in my head, every day of my life…look forward to being able to travel to you to study in montreal, one day soon."

– Moneca Yardley