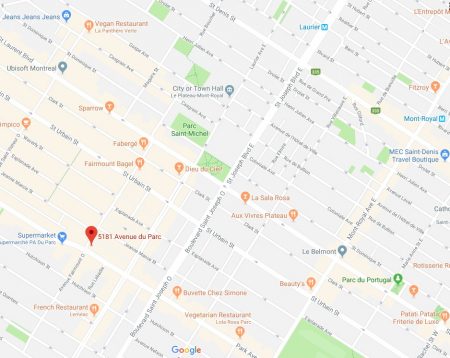 ---
Hatha Yoga Shala
5181 Park Avenue
2nd floor
Montreal, QC, H2V 4G3
info @ hathayogashala . com
514.813.2660 (leave a voice message, no texting)
+ Home studio located on Chemin du Lac Louisa N, Wentworth, QC
---
Email us
If you'd like to be added to our email list and receive notifications on upcoming events or if you have questions for us, please write to our email address and we'll respond as quickly as possible.
*Be sure to check your junk mail if you do not receive a response within 72 hours.
---
How to get there in Montreal
Subway:
Laurier station, orange line. Laurier Street exit.
Walk west on Laurier towards St-Denis Street all the way to Park Avenue.
Turn right on Park.
Approximately 15 minutes walk.
Bus :
Park Avenue Bus #80, get off at Fairmount.
Bus #51 from Laurier metro station, exit Saint Joseph (Rivard / Gilford).
Coming from the West, bus #711
Car :
It may be possible to find free parking on the residential surrounding streets.
Metered street parking on Park Avenue. $3/hour
Monday to Friday: 9 am to 9 pm
Saturday: 9 am to 6 pm
Sunday: 1 pm to 6 pm