Self-Inquiry or Activism?
Yoga is not activism. The very method of obtainment demands complete inactivity.
We are told by the texts that to get to the state of Yoga we are required to be inactive, not moving, in body, thoughts or breath. But it seems like yoga today is more about community and festivals, supporting a cause, saving the planet and activism. The teachings tell us isolation and shunning public contact are necessary in order to succeed. Why are we then mixing debating, service work, animal rights or environmental issues with the practice of individual inquiry?
Perhaps it started when unprepared people took on complex practices and were confronted with personal blocks that proved too difficult to overcome. Perhaps they chose to turn outwards and decided it was easier to impose their obstructed beliefs on others and get them to change instead.
When we are unable to change ourselves we expect others to do so.
I can't pinpoint the moment it happened, when Yoga started becoming more of an activist gathering for like-minded rigid practitioners rather than a method of self-inquiry. It may have started with the growing popularity of yoga studios in the late 90's and the rising celebrity teachers promoting veganism or raw food living, two elements that have nothing to do with yoga. Or perhaps it began much earlier with intellectual practitioners needing something to debate.
Swami Niranjananda Saraswati himself said "yogis don't debate, they do." He also said at the ashram they are not doing yoga, they are workers offering Seva (service to others). Different practice.
I am not saying to not act, please do! We need people to get involved, to interfere and stand up for truth. We need to be charitable, to help the downtrodden and the sick, to demand justice when a wrong has been done, when it hurts many to benefit just a few. We will always need protectors and whistleblowers, people who are willing to call out charlatans and fraud.
Just don't call it yoga.
Hatha Yoga has specified tested techniques that prepare the practitioner for Raja Yoga which then has its method of attaining Yoga.
Students should not be subject to their teacher's rigid morals, religious dogmas or political stances. They need to be taught techniques and exercises free of such topics.
People are now choosing what noble cause they want to stand behind instead of seeking a qualified teacher in the craft. Is the teacher you study with skilled in yoga or are they better known for being an environmentalist, eating super foods or supporting your favourite charity? All would be fantastic, but let's not confuse the subjects.
Yoga is not about community action. Although it is essentially all-inclusive, it is a solo practice. It demands we discipline and transform no one other than ourselves.
Yoga will ask us to take no side, hold no beliefs, make no separations of any kind. Complete neutrality is required in both body and mind, right down to our breathing preferences. All ties to organizations, associations, religious or political parties will have to be renounced in order to get to where Yoga is.
Each student will have unique requirements of diet, cleansing techniques, asanas and individual methods to get around their blocks. They should not have to be made to feel they must eat a certain way in order to be part of some club.
When we are unsatisfied looking inwards, we recruit others to join our cause to justify our means. We don't want to stand alone so we try to standardize the ways of doing things, impose our beliefs on all and seek to create large scale mass movements. What happens when we are wrong? How do we know what's best for everyone else? How can we possibly know what long-term repercussions await? We don't.
We must be careful about getting the entire world on board with a single theory or idea. One size never fits all.
That is why Yoga is about the Self only. When we realize our true nature and the dual reality of situations, we will be less inclined to take too many others along.
I am in no way saying to be indifferent, insensitive, unkind, hurtful, unfeeling or useless.
Please act! Take responsibility for YOUR actions.
It is a wonderful gift to give and help others. We need more people to have integrity and not be afraid to stand up for truth even if it may affect their job or reputation. We need to share new ideas and thoughts with others. We need to find alternative solutions to the mess we create.
Just don't call it yoga. Or mindfulness or meditation…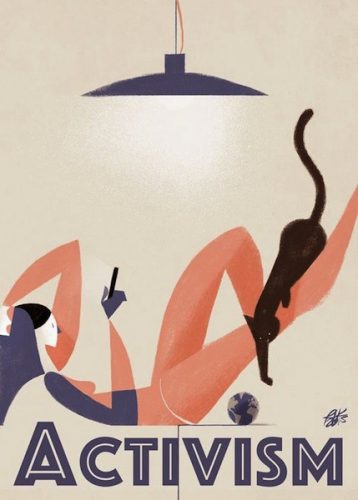 Every new generation has a cause to support. It makes them feel special and useful in this world. Pressing the 'Like' button, sharing a post, wearing a ribbon, signing a petition and marching in the streets all makes us feel good, empowered and part of the in crowd, but does it actually manifest the desired outcome? Would the poor old lady have to keep protesting 'this fucking shit' if it had an effective relevance?
What we can use more of are individuals who are willing to be introspective, self-reflective, willing to be accountable for their speech and actions. People who are willing to be self-reliant in their own health and welfare and disciplined in their personal consumption.
Perhaps this is coming with the growing number of people practicing yoga today, or at least practicing a more conscious and respectful way of living through self-inquiry.
Yoga requires self-study, Svadhyaya, the ability to read one's self. This includes the study of the yoga scriptures and an understanding of our unique strengths and weaknesses. Knowledge of our personal behaviour, psychology, emotions, habits, our blocks, our conditioning, our ways of lying, cheating, our greediness and self-sabotage all fall under this category. It has nothing to do with anyone else's actions but our own.
A sense of compassion and understanding naturally develops with practice that makes us care more for animals, people and the environment, seeing everything as part of us. When we can recognize these things in ourselves, we will be less inclined to judge and expect so much of others.
Ideally, if everyone would apply this internal work to their personal practices, we may discover over time we'll have less need for taking a stance as all will have done their conscious part. But realistically, whenever there is more than one person involved, trouble stirs. It will always come down to just us, our motives, reactions, projections and conditioning. Alone we are constantly faced with doing the work on ourselves.
I am not an activist but I will take action. Like seeing trash and stepping over it while complaining about how other people are such pigs. Taking action can be keeping quiet, bending over, picking up the litter and throwing it into the next garbage bin you come across. The action involved no one else other than you. No public statement made, no petition signed, no recognition received. A quiet solo journey that may create a nicer, cleaner world.
---
Radhasri (Rhonda Fogel) has been teaching yoga in Canada since 1998 and is the founder of Hatha Yoga Shala currently based in Montreal. She is an authorized Shadow Yoga teacher since 2005.